Today, Prime Minister Ana Brnabic welcomed Federal Chancellor of the Republic of Austria, Karl Nehammer, who is on a one-day official visit to Belgrade.

A solemn reception was prepared for the Austrian Chancellor in front of the Palace of Serbia, with the lined-up Guard of the Serbian Army and the performance of the anthems of the two countries.

After the reception, a tete-a-tete meeting between the Prime Minister and the Chancellor took place, followed by a plenary meeting of the delegations of the government of Serbia and the Federal Government of Austria, after which Brnabic and Nehammer will address the press.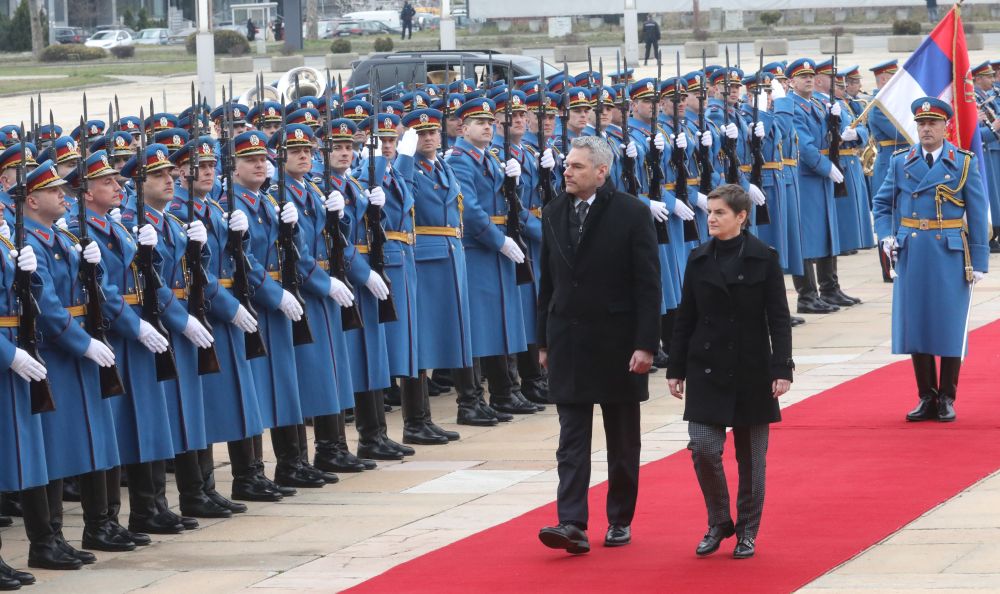 The Federal Chancellor of Austria will also meet with President of the Republic Aleksandar Vucic in Belgrade, and will also talk with the Patriarch of the Serbian Orthodox Church Porfirije.

Nehammer has been the chancellor since the beginning of December last year, and this is his first visit to Serbia on that duty.

The Austrian Chancellor pointed out that Serbia is a geostrategically and geopolitically important partner of Austria, and added that at this time it is unprecedented to send the message that the countries of the Western Balkans belong to the European Union and Europe.

He pointed out that Austria sees itself as a bridge and has an interest in accelerating the accession process of the Western Balkans, reiterating that Austria will work on further deepening relations with Serbia and the region.
Austria is also a big investor in Serbia, because this market is very interesting, the chancellor said and said that the two countries would deepen their further bilateral cooperation.

I can proudly say that we have one of the largest diasporas from Serbia in Austria. We are proud of our citizens of Serbian origin, who respect their new homeland, and do not forget the motherland. That connects us, he pointed out.